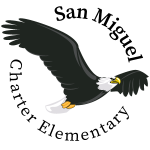 San Miguel Newsletter
September 15th, 2023
LETTER FROM THE PRINCIPAL
Dear Families,
It was a busy Friday today with the Team Omegaman member, 'Stonehands' delivering his message of being a HERO, Helping Everyone Respect Others. The TK-3 students loved it! The 4th – 6th graders held their student council speeches today and the election followed. Please see the PTO update below and have a nice weekend.
Warm regards,
Patrick Eagle
PTO UPDATE
Thank you to everyone who has sponsored or found business sponsorship for our walk a thon. We are always so grateful for our wonderful families and community members who support our school! Fliers for the walk a thon were sent home today with your child and one is also at the link here. Please take a minute to check out the pledging website and share with family and friends. Many of you used it last year for our "training" walk a thon and helped make it a great success. This first annual walk a thon is now the PTO's main fundraiser for the year and will raise the bulk of our annual funds to support our school, teachers and continue to build our school community. We have a jump and donate with Rebounderz on Tuesday 9/19. Such a fun way to see friends outside of school all while supporting us!
Rebounderz: 9/19
General PTO Meeting: 9/25
Walk a thon: 10/20.
Don't forget to follow our social media accounts for school and PTO updates:
Facebook: San Miguel Site PTO
Instagram: @smeagles_pto
PTO President, Mika Holman, (707) 362-9879
mika.holman@gmail.com
PE WITH COACH BRE
A wonderful first week back in the gym! We did our famous crazy cards ice breaker challenge. Mr. Menth's class finished first with a time of 3 minutes flat! We covered sportsmanship, teamwork, listening skills, and so much more. Our kinders nailed their first week of jumping jacks 101, hula hoops, freeze dance, and listening skills. Next week we will do one of my favorite challenges – the Pipeline!
-Coach Bre
FOLLOW US CAMPAIGN
Would you like to stay informed about school and district wide events/activities/programs; or view the school day through the eyes of your child? The Mark West Union School District encourages all of our parents/guardians to follow us on Facebook, Instagram and YouTube! Feel free to "like" the posts, comment on posts you find engaging, and share posts of all the wonderful things happening in our district with family and friends!
HELP IN THE DISTRICT NEEDED
The Mark West USD is looking to add more support to our personnel staff. We are hiring paraeducators, yard supervisors, office support, lunch heaters and crossing guards. These positions are flexible; you can choose how much you'd like to work. If you've thought about working at your child's school, this is the perfect opportunity. Click here for the flyer.
To apply, visit https://mwusd.org/employment to fill out an application. For more information, please contact Marcia Noxon at (707)524-2970 or mnoxon@mwusd.org. We look forward to adding you to the Mark West District family!
DATA CONFIRMATION
The window for Data Confirmation closes Sept. 29th. Please complete it if you have not already done so. Reminder calls will go out next week. We have computers available at the District Office for your use. Contact Alicia Mills @ (707) 524-2972 with any questions. Here is the link with instructions: Data Confirmation
UPCOMING DATES
9/19/23 – Rebounderz jump and donate
9/25/23 – PTO meeting 6:00
9/29/23 – School Spirit Day, wear your spirit wear
10/6/23 – Conference Day, no students
10/20/23 – Walk a Thon
10/31/23 – Halloween Parade 1:15
MWUSD DISTRICT FACEBOOK AND INSTAGRAM PAGES