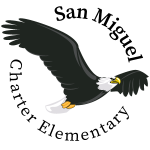 San Miguel Newsletter
November 17, 2023
LETTER FROM THE PRINCIPAL
Dear Families,
As the Thanksgiving Holiday approaches, it gives us time to reflect on all of the gifts we have in our lives to be thankful for. Maybe it is skills and talents, good health, children, friends, relatives, a place to live, or food on our table. I personally am thankful for the wonderful families I get to interact with daily, the amazing staff that I work with, and of course my own family. Enjoy the break.
Warm regards,
Patrick Eagle
COVID TESTING BEFORE RETURNING
In an effort to keep our educational community healthy and safe, the MWUSD is providing COVID-19 test kits to every student prior to the Thanksgiving Break. We would appreciate your support in testing your student(s) within 24 hours of their return from Thanksgiving Break, regardless of whether or not they are symptomatic. If you receive a positive result, please report the result to your School Office Manager and to District COVID Coordinator, Alicia Mills at amills@mwusd.org.
Please note: if your student has tested positive within 30 days of their return from Thanksgiving Break, they are exempt from testing.
PTO UPDATE
Another great turnout for the PTO meeting Monday. If you missed it but want to stay informed, the meeting minutes will be posted on the PTO website. Elves workshop is coming up in a few weeks. This is a fan favorite community event where kids get to make special gifts for friends and family. Click here for the flier. If you are available to help out, please scan the QR code on the flier and sign up. Any questions contact Jana Eliason at (707) 548-0513.
A 'NOTE' FROM THE MUSIC TEACHER
Please join us for our long-held tradition of singing and playing holiday songs at the Annual Tree Lighting Ceremony, presented by the Mark West Area Chamber of Commerce. 4th-, 5th-, and 6th-grade chorus and continuing violin students from Riebli, San Miguel, and Mark West will perform at this event. The Tree Lighting Ceremony will take place on Wednesday, December 6 at 6:00pm in the Mark West Elementary MPR. Students who are performing will receive a flyer with more details next week.
Mrs. Kaufman is currently in the process of creating a Google Classroom for each 4th-6th grade music class to help students keep learning and practicing at home. She will send out invitations to students to join if she already has their email addresses, but she is missing a few! If your child is in a 4th-6th grade music class and they do not get an invitation in the next week or so, please email Mrs. Kaufman and she will send you the link for them to join. They will need to log into their school Gmail account to join. (Note – it is not a requirement to join the Google Classroom, but it may help students remember what they've learned in class and to practice at home.) Email Mrs. Kaufman with any questions at kkaufman@mwusd.org. Happy music making!
PLAYGROUND UPDATE
The old playground should be demolished over the Thanksgiving break and the new structure installed by early December. It may take longer depending on how much inclement weather we have. We'll hope for the best!
BOYS BASKETBALL
The boys basketball team is underway with games starting November 28. Girls basketball will start in late January and Coed volleyball will start in the later spring.
PE WITH COACH BRE
We just wrapped up our jump rope unit! Everything from short ropes, skip it's, long ropes, Thunderstick, Chinese jump rope and we even attempted double Dutch with one of the classes. Congratulations to those that completed their jump rope goals. Can you find your child's name on a poster?
UPCOMING DATES
11/20-11/24 – Thanksgiving Break
12/9/23 – Elves Workshop 10am-12pm
12/22/23-1/8/24 Winter Break
1/15/23 – Martin Luther King Holiday
1/15/23 – PTO General Meeting
1/17/23 – KIN Dine and Donate